Book Discussion: Family Properties with author Beryl Satter
Wednesday, August 12, 2020
•
22 Av 5780
7:30 PM - 8:30 PM
Book Discussion: Family Properties with author Beryl Satter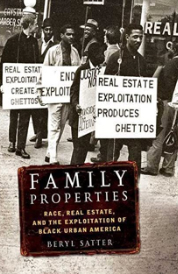 The "promised land" for thousands of Southern blacks, postwar Chicago quickly became the most segregated city in the North, the site of the nation's worst ghettos and the target of Martin Luther King Jr.'s first campaign beyond the South. In her powerful book, Family Properties, Beryl Satter identifies the true cause of the city's slums: widespread and institutionalized systems of legal and financial exploitation.

Join us for a conversation with the author of Family Properties: How the Struggle Over Race and Real Estate Transformed Chicago and Urban America. Purchase your copy for $22 at the Book Table (708-386-9800).


Online with Zoom
For login instructions, visit this members-only page on our website. You can also email admin@oakparktemple.org for additional help and instructions.
Learn more here about how Zoom works.
Share Print Save To My Calendar
Tue, September 29 2020
11 Tishrei 5781
Today's Calendar
---
Upcoming Events
STAR
Thursday, Oct 1 1:00p
---
Candle Lighting
Havdalah
Motzei Shabbat, Oct 3, 7:18p
Erev Sukkot
View Calendar
Tue, September 29 2020 11 Tishrei 5781