Our Memorial Scroll
Bringing a Holocaust Memorial Scroll to OPT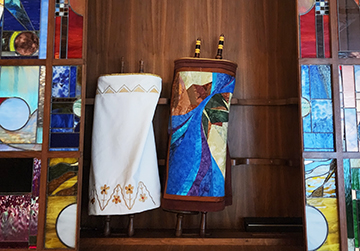 June 2023, By Wendy Cole
Oak Park Temple wasn't seeking a new Torah when a rare opportunity to add to our treasured collection of eight sacred scrolls recently came our way. On Monday, our congregation acquired, or more precisely, became the long-term custodian of a late 19th century Torah that both memorializes the horrors of the Holocaust and testifies to the enduring strength of the Jewish people.

Torah #1451
Our new addition, Torah #1451, is a tangible piece of Holocaust history, one of 1564 Czech Memorial Torahs salvaged from destroyed Jewish communities. It was housed at Pinkas Synagogue in Prague, Czechoslovakia during and after the Nazi occupation.
In 1964, the entire collection was sent to Westminster Synagogue in London, where each was repaired and restored as much as feasible. Each Torah received a numbered brass plaque identifying its place in the collection.
Thanks to a generous anonymous donor, Oak Park Temple has become the custodian of Torah #1451. The donor made this possible in honor of Cantor Yugend-Green's tenure at Oak Park Temple. This scroll was previously on long-term loan at Temple Chai in Long Grove where it was the first scroll obtained by the congregation in 1973, a year after the northwest suburban congregation was established.
It became available after Temple Chai announced this spring it would be closing its door and selling its building and other property after 51 years. Temple Chai's executive director reached out and offered the Torah to area synagogues. Oak Park Temple had not to this point housed a torah from the Memorial Scrolls Trust. We reached out to both the trust and to Temple Chai to arrange transfer of the Torah.

The scroll from Prague
"Housing this scroll from Prague will enable us to provide Holocaust education in a new way. It is also a tangible, enduring reminder of a Jewish community that has been lost," Rabbi Weiss says. "This scroll is a bridge that connects our past to our future."
Amid the genocide of six million Jews and others during the war, the Nazis sought to preserve this large collection of scrolls, among other Jewish liturgical artifacts. They forced a group of Czech Jews to collect and catalog the consecrated items. Many believe the Nazis' intent was to eventually use these objects to discredit Judaism and Jews and justify their extermination.
Thanks to the work of the Memorial Scrolls Trust, the Torahs have been allocated to synagogues and educational institutions throughout the world on permanent or long-term loans.

What has this scroll seen?
Cantor Yugend-Green's 30-mile trip to Long Grove this week to pick up the Torah was a bittersweet journey.
"I was overwhelmed looking at it. I wondered, 'What has it seen?' There are a lot of stories there." Yugend-Green says. "So many hands have touched it. Countless voices have chanted from it and now we are going to add ours."
The Holocaust scroll, on the left, joins the Torah in our chapel that Cantor Green and Warren Green purchased for Oak Park Temple as a gift in memory of the cantor's mother and father. As Yugend-Green's distinguished tenure at Oak Park Temple winds down, we are accepting Torah #1451 in honor of her retirement.
May the scroll's arrival in our community serve as a powerful symbol of hope for future generations.
Our scroll is on permanent loan from the Memorial Scrolls Trust in London. More information can be found at Memorial Scrolls Trust

Thu, September 28 2023 13 Tishrei 5784