Officers Bios
Liz Simon
President

Liz Simon has been actively involved with Oak Park Temple since 1990. She and her husband Jonathan met and were married at OPT. She and her three daughters became B'nai Mitzvah, and all three daughters worked as TAs in the religious school and at Camp Shalom. As a family, they have traveled with Cantor Yugend-Green to Israel, celebrated with other community members at the annual Temple Retreats, and contributed to many of the Temple's social action initiatives. Liz is active in Rabbi Weiss's Saturday morning Torah study group, and she sings with Zimrei Ha'am. She has been involved in several committees, including religious school, the Caring Community, worship and HR.

Liz is an attorney with a mediation and arbitration practice focused on labor and employment law. She serves on three national dispute resolution boards and teaches at Loyola University Law School, where her students advocate on behalf of small businesses and low income clients.
Eddie Pont
Executive Vice President

Officers Bios
Shari S.
Immediate Past President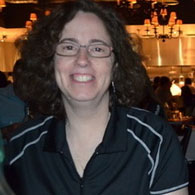 Shari and her family have been members of Oak Park Temple for more than 10 years. She has served as an at-large board member, she served two terms as the Treasurer, and she held the role of Executive VP before taking over as President. She has been actively involved in various committees, including most recently finance, human resources, communication, worship, and Derech Eretz.

Shari became a Bat Mitzvah at Oak Park Temple as an adult. Her son went through the Religious School program, Bar Mitzvah, and was confirmed at OPT. Shari is active in a women's Torah study group as well as a chavurah. Shari is a Certified Public Accountant, Certified Fraud Examiner, and she is currently a Supervisor who leads a group of highly specialized forensic accountants.
Secretary: Karen Muriello
Vice President Membership Development: Ali Mandell
Vice President Membership Engagement: Jeff Schneider
At-Large Members of the Board:
Elyse Forkosh Cutler, Janet Kelenson, Michael Shapiro, Dan George, Russ Cohen, Steve Scheer, Susan Blumberg-Kason, Joe Mitzenmacher, Rob Pooley
Sat, November 28 2020
12 Kislev 5781
Today's Calendar
---
Upcoming Events
---
This week's Torah portion is

Parashat Vayeitzei
Candle Lighting
Havdalah
Motzei Shabbat, Nov 28, 5:12p
Erev Hanukkah
View Calendar
Sat, November 28 2020 12 Kislev 5781