Officers Bios
Officers Bios
Shari S.
President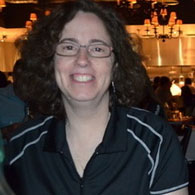 Shari and her family have been members of Oak Park Temple for more than 10 years. She has served as an at-large board member, she served two terms as the Treasurer, and she held the role of Executive VP before taking over as President. She has been actively involved in various committees, including most recently finance, human resources, communication, worship, and Derech Eretz.

Shari became a Bat Mitzvah at Oak Park Temple as an adult. Her son went through the Religious School program, Bar Mitzvah, and was confirmed at OPT. Shari is active in a women's Torah study group as well as a chavurah. Shari is a Certified Public Accountant, Certified Fraud Examiner, and she is currently a Supervisor who leads a group of highly specialized forensic accountants.
Liz Simon
Executive Vice President

Liz Simon has been actively involved with Oak Park Temple since 1990. She and her husband Jonathan met and were married at OPT. She and her three daughters became B'nai Mitzvah, and all three daughters worked as TAs in the religious school and at Camp Shalom. As a family, they have traveled with Cantor Yugend-Green to Israel, celebrated with other community members at the annual Temple Retreats, and contributed to many of the Temple's social action initiatives. Liz is active in Rabbi Weiss's Saturday morning Torah study group, and she sings with Zimrei Ha'am. She has been involved in several committees, including religious school, worship and HR. She currently serves as one of the co-chairs of Bikur Cholim, part of the Caring Community initiative.

Liz is an attorney with a mediation and arbitration practice focused on labor and employment law. She serves on three national dispute resolution boards and teaches at Loyola University Law School, where her students advocate on behalf of small businesses and low income clients.
Deborah H. Holdstein
Immediate Past President

Deborah Holdstein has been a member of Oak Park Temple since 1986, and, among other activities, she has served on the Board of Directors under several administrations. She has also served on the Glasser Preschool Committee and for many years co-led the volunteers of the Shure Memorial Library of Oak Park Temple. Deborah also had the honor of being part of the Rabbi Search Committee that brought Rabbi Weiss to OPT. She and her husband, Jay Boersma, are members of an OPT chavurah.
Professor of English and for seven years Dean of the School of Liberal Arts and Sciences at Columbia College Chicago, Deborah became bat mitzvah several years ago, studying with Cantor Green to accomplish this milestone. Her children, Emily and David, now adults, attended preschool, religious school, and became B'nai Mitzvah at OPT, and late in life, Deborah's parents became members of OPT after moving to the Chicago area.

Aaron Lebovitz
Finance Vice President

Aaron joined the OPT Board as the Vice President in Finance in March of 2013. His family joined the Temple in 2006. Aaron grew up in Glencoe, IL, and became Bar Mitzvah at Am Shalom.

Aaron and his wife, Donna Meyers, have served on a wide range of boards and committees around town, including the D97 Financial Oversight and Review Committee, the D97 PTO Council, West Suburban PADS, the Oak Park & River Forest Food Pantry, the Chicago Zoological Society, the Oak Park / River Forest Community Foundation, and the Chicago Institute for Psychoanalysis. Aaron was trained as an economist, and he spends his weekdays developing quantitative strategies for investment and trading.

Dan Zoloto
Treasurer

Dan Zoloto is a second-generation member of Oak Park Temple, having grown up in River Forest and become Bar Mitzvah at OPT in 1992. Dan's family moved to Oak Park in 2010 and joined OPT in 2012. Dan joined the Board of Directors as Treasurer in 2017. In his capacity as Treasurer, Dan serves as an Officer on the Temple's Executive Board.

Danand Amanda's three children are "graduates" of Glasser Preschool, and attend Religious School at the Temple.

Dan is Vice President of Asset Management at Harrison Street Real Estate Capital, a privately-held investment firm with $12.8 billion in assets under management.




Alan Fox
Secretary

Alan Fox and his wife Win moved to Oak Park 11 years ago from Maryland to be close to their daughter Lucy and her three boys. Following Lucy's lead, they joined Oak Park Temple and immediately felt completely at home.

Alan is a retired Federal government economist (SSA & HUD), tinkerer, cabinetmaker, occasional consultant, and one of the esteemed Bagel Boys. They live around the corner from Lucy and Michael and the three Kelly boys, and a mile from their son Dan and his family.
Jennifer George
Vice President without Portfolio

Jennifer George joined the temple in 2010 after walking into the rotunda on a Sunday morning and experiencing the joy and energy. She and her husband Dan realized "this was the community we wanted to be a part of."

Their twin boys Ben and Noah and daughter Abbie all attended Glasser Preschool. As a family, they are very active in the Temple, as they were in the preschool. Jennifer has served as board rep for Glasser Preschool, a member of the Arts and Environment Committee, and on the David Broza concert during OPT's 150th Anniversary celebration.
Sun, December 9 2018
1 Tevet 5779
Today's Calendar
---
Friday Night
Candle Lighting

: 4:03p
2nd Friday Shabbat Oneg

: 6:00p
2nd Friday Service

: 6:30p
Shabbat Day
Upcoming Events
---
Parashat Vayigash
Candle Lighting
Havdalah
Motzei Shabbat, Dec 15, 5:11p
Hanukkah
View Calendar
Sun, December 9 2018 1 Tevet 5779